EMDR for PTSD & childhood trauma
In episode 25 of Unpacking Life's Crazy I explain EMDR or Eye Movement Desensitization Reprocessing Therapy, why I decided to try EMDR for my PTSD & childhood trauma and my experience with this therapy technique so far.
Hopefully you are here because you have already listened to or watched the podcast and looking for more information about EMDR or the other topics discussed in this episode. If you found this blog, but have not yet listened to episode 25, I encourage you to do so. This unique therapy has the potential to help you or someone you love make some real mental health breakthroughs. This unique therapy technique is used to treat anxiety, depression, sexual dysfunction, low self-esteem, pain disorders, panic attacks, childhood sexual and physical abuse, body dysphoria, PTSD, trauma, performance anxiety, eating disorders, dissociative disorders, personality disorders, addictions, and phobias.
First off, here is an article from Psychology Today that explains in detail EMDR, what it is all about and the process that allows it to work. Also, as I was just telling a dear friend yesterday, If you have insurance that covers therapy, you should also be covered for EMDR. So if you suffer from any of the above mentioned conditions, I highly encourage you to look into treatment options within your network.
One of the things I had to add in post editing text was an explanation about repressed memories of childhood trauma. While explaining my experience with EMDR for PTSD & childhood trauma, I described how memories can be cemented in our brain when trauma is involved. This can cause us to remember every detail of a traumatic event; the sounds, smells, the weather that day, sensations in our bodies… What I didn't explain was the way that childhood trauma, especially sexual abuse, can paradoxically cause us to lock memories away in order to protect our little minds from events we aren't capable of processing. This is referred to as dissociative amnesia. The memories are still there impacting how a survivor views the world and their perception of themselves or relationships with others, but they are not consciously aware of where these feelings and reactions are coming from.
There has been a debate amongst psychiatric experts for some time as to whether recovered memories of childhood trauma are accurate or simply false memories. It doesn't help that those of us who are remembering for the first time would really rather not believe these awful truths. Recent studies are proving what many therapists have been defending for years, that these traumatic repressed memories are very real. Researchers used MRI imaging to show measurable physical changes in the brains of those with PTSD and dissociative amnesia. You can read more about the study in this article from The American Journal of Psychiatry.
Another topic I mentioned is a breakthrough in my efforts to overcome my lifelong insomnia. (Sadly, even this has not been helping lately, perhaps as a result of EMDR for PTSD & childhood trauma. This sleep connection is explained in the podcast.) Several months ago I was prescribed Gabapentin to aid in my sleep by my GP. It can be especially helpful for women who are experiencing sleep issues as they approach menopause. When I told my sleep doctor that it was helping, but not enough, he was thrilled and doubled my dosage. (He'd already tried me on Ambien, which didn't even get me through the night and had some potentially scary side effects.) Then I had a visit with my rheumatologist about my fibromyalgia and non-radiographic axial spodyloarthritis. She increased the dose again, because in addition to helping with sleep, Gabapentin is used in the treatment of nerve pain. If you are suffering from any of these conditions, you might want to look into Gabapentin as a treatment option. Here's an article bout its use in menopausal women for hot flashes and another in its treatment of fibromyalgia and nerve pain.
For many years I was afraid to share my experiences for fear of being seen as crazy or broken. It has taken a lot of hard work to get this far in life with all of its challenges. It had become my goal to share these experiences in order to pave the path for others who are on a similarly difficult journey. Hopefully you find this additional information about EMDR for PTSD & childhood trauma helpful and will share this blog and/or the podcast video with loved ones who might also benefit. I wish you safe travels on your path to mental and physical well being.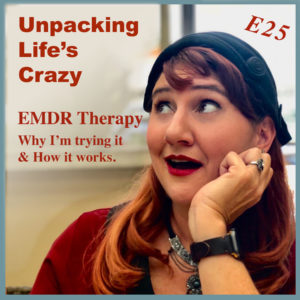 EMDR, Why I'm trying it & How it works
Helpful links about episode 25 of Unpacking Life's Crazy for my listeners/viewers. If you have not watched the video on YouTube, in this episode I share my personal experience with EMDR therapy. Bonus, viewers will have the opportunity to win one of my original sculptures and you get meet my adorable emotional support pups too.
" width="20″ height="20″>