ULC Episode 22, Is your child transgender?
In this edpisode of Unpacking Life's Crazy I honor pride month with words of wisdom for parents of transgender youth. I update listeners on my daughter Kiera's transition progress since her interview nearly a year ago. (To hear Kiera share her experience of coming out to me, listen to Episode 1 of Unpacking Life's Crazy.) Also, Kiera and her girlfriend Kaynah will be joining me for an interview for Episode 23, so you'll want to check back for that. This episode offers suggestions how you can better support your trans child through their transition. I also offer advice on processing this information and adjusting emotionally to your child's gender changing.
If you are a transgender and aren't receiving the support you need at home, you are not alone. There is a whole community waiting to offer their support. One of the best resources I've found is The Trevor Project
https://www.thetrevorproject.org
If you are a transgender individual in crises, help is there for the asking. Call The Trevor Project helpline 1-866-488-7386.
Your life matters very much to me.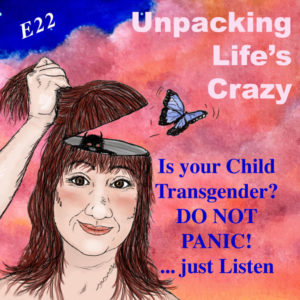 The magic ingredient in parenting ANY Child is LOVE.
In episode 22 of Unpacking Life's Crazy I share advice for parents newly adjusting to the knowledge that their child is transgender.